Cool winter weather is on its way…it's that time of year we all dream of curling up in front of a crackling fire! Our quest for warmth invokes feelings of comfort, childhood memories, and cravings for hot cocoa. Many buyers searching for that perfect Seacoast home consider a cozy fireplace a must-have amenity.
Early American homes needed fireplaces for life's necessities…they were stoked all day and night as a primary source for heat and cooking. The Rumford fireplace was the brainchild of Count Rumford (aka Sir Benjamin Thompson of Woburn MA), introduced in the late 1700s as a design innovation featuring a high, wide firebox deemed more efficient and less prone to smoking. This style is still common throughout New England. Today, we have the luxury of choice, with many alternatives to a traditional fireplace, including wood stoves, gas inserts and even LCD screens with flickering flames. But there's nothing quite like an untamed wood-burning fire!
Here, we present 4 Seacoast homes with cozy fireplaces sure to keep you warm all winter long…

Waterfront Property, Rye NH | 4 Beds, 4+ Baths, 5,200 SF $5,750,000
This luxury property is our top pick for the fireplace aficionado! Not only does it have 180° views of the Atlantic ocean, a custom wine cellar, infrared sauna and Viking kitchen appliances…but three (3) cozy fireplaces of the finest quality. We invite you to tour its beautiful rooms where you can relax by a warm, crackling fire.
31 Old Locke Road, North Hampton NH I 4 Beds, 3+ Baths, 4.78 Acres, $2,100,000
This Little Boar's Head gem was designed for entertaining, with large, open rooms which flow seamlessly throughout its main living area. The formal living room's wood-burning fireplace has a custom insert to maximize efficiency, ensuring a steady, warm glow as a backdrop to good conversation with your favorite guests.
2 Boulters Cove, North Hampton NH I 3 Beds, 2 Baths, 2,690 SF, $1,299,000
This coastal, contemporary home is filled with natural light from its many skylights and windows. It is heated with a unique radiant system strategically placed throughout its soaring ceilings. The focal point of the main living area is a massive Inglenook-style hearth with a natural gas-fired stove. As we toured the property, we couldn't help but imagine basking in its warmth on a blustery winter's day with snowflakes swirling outside!
9 Burnham Road, Windham NH I 4 Beds, 4+ Baths, 2.69 Acres, $975,000
Our fourth featured home with a cozy fireplace is the most recently constructed (2014) and sited within the beautiful Terra Bella neighborhood. Its formal living room has an optimal blend of traditional details (note: stunning coffered ceiling) and modern conveniences, the most notable of which is a (propane) gas fireplace. No hassle with handling wood and stoking the fire here…a simple switch is all you need to add ambiance!
A Selection of Homes with Beautiful Fireplaces Our Team Sold in 2020…
18 Becker Lane, New Castle NH | Sold for $5,937,500 in December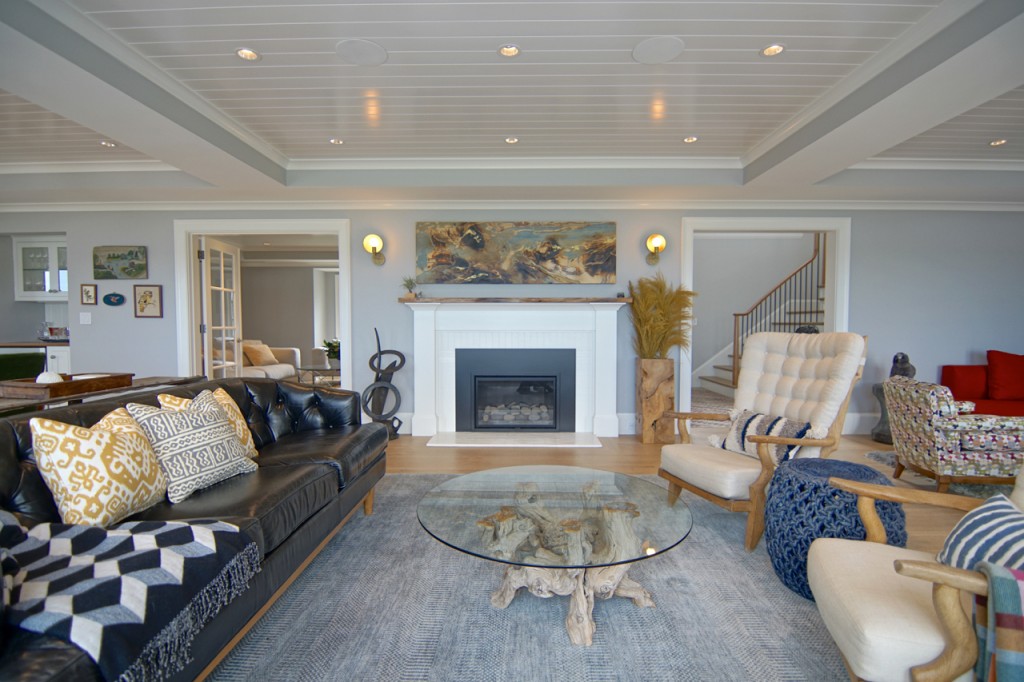 292 Middle Road, Portsmouth NH | Sold for $1,800,000 in November 2020
2 Tower Road, Kittery Point ME | Sold for $917,000 in November 2020
65 High Street, Exeter NH | Sold for $810,000 in July 2020
210 South Road, Rye Beach NH | Sold for $3,499,000 in September 2020
For more information about Seacoast homes with cozy fireplaces, please contact us! At Tate & Foss Sotheby's International Realty, we pride ourselves on having in-depth knowledge of our market area. We'd like to share that insight with you.